Home
Hi, I'm Thane

I have many talents. I am a software developer, comedian, book author and public speaker. If you want to hire me for to perform comedy or a presentation. Click here Otherwise information on my book is below.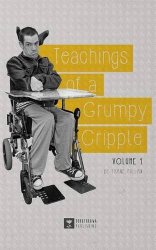 Synopsis Thane Pullan's book, "Teachings of a Grumply Cripple," introduces the reader to another side of his world with a disability. Thane's teachings cover all aspects of a person's life, including sex. By providing a thought provoking discussion of the inappropriate designs that society has in place, he sheds light on the attitudes of people. Thane says, "This book is about my experiences of having a disability, how society can improve treatment of people with disabilities and my own psychological theories." The paper version has been edited and updated in 2015 for a fresh new approach to understanding disability. 60 pages.



Click here to buy through Amazon.

Contact me to pay through bank transfer.

Contact me to pay through bank transfer.